How It Works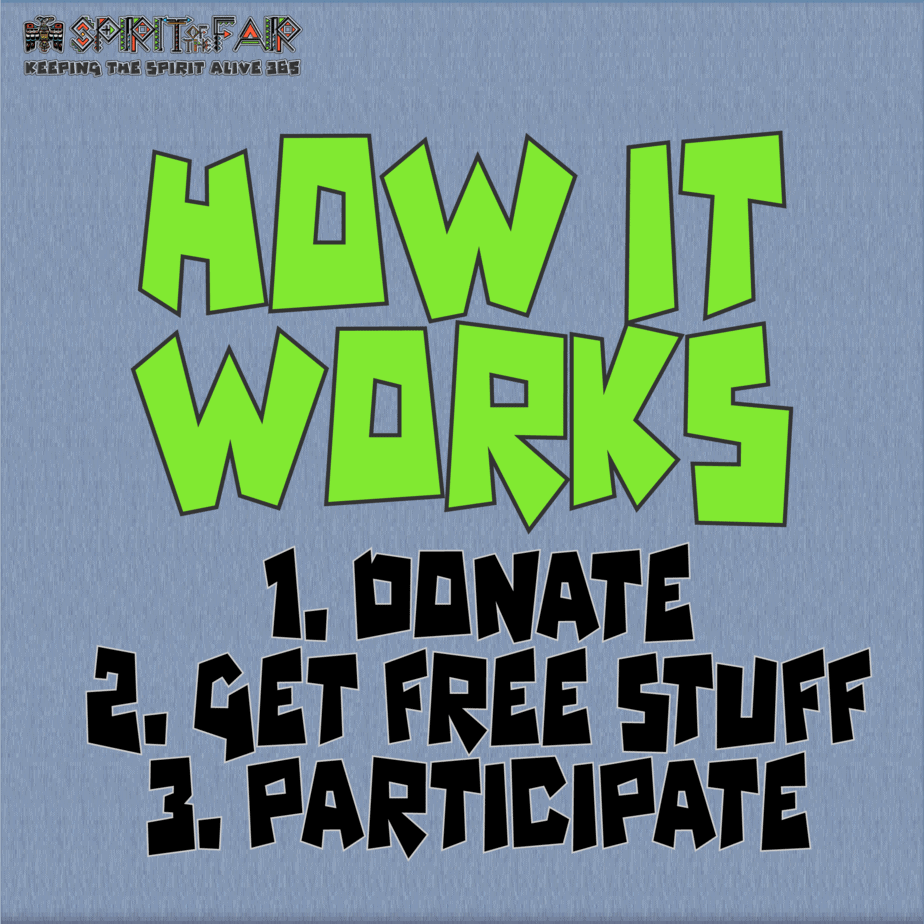 [lws_social_share]
---
'Give First – Give Back – Give Often'
Focusing outwardly on others is very important for many reasons; it gives purpose to lives, hope to the hopeless and benefits everyone. Not only do many people need help, but there are many people out there who need to help.
Everything we do focuses on other people. Every raffle, every tournament and every swag bag donation benefits a nonprofit.
1. DONATE FIRST
"GIVE FIRST AND THE UNIVERSE PAYS BACK TENFOLD."
Help those in need! 100% of the donated proceeds benefit a local youth related nonprofit organization. Make a Cash Donation at the next Spirit of the Fair Charity Fundraiser and Receive a Promotional Gift Bag of Goodies, Swag, Merch, Discounts, Promotions and More!
Become a Volunteer. If you are interested in helping and participating, you can earn activity participation to give to others as gifts or use for yourself.
2. GET FREE STUFF
PROMO SWAG / GOODIE BAG
In exchange for your donation, you get a Promo Bag filled with a variety of Freebies, Goodies, Swag, Merch, Promotions, Discount Coupons and More. Limit One Gift Bag / Person / Fundraiser. Must be 18 years of age or accompanied by an adult to receive goodie bag.
Business Owners. You are able to promote your products and services through the charity fundraiser goodie bags for FREE. There's no catch. This is to promote 'Give First'. We have many ways to help you grow your business.
3. PARTICIPATE
BE PART OF A GROWING COMMUNITY OF ALL THINGS FAIR RELATED
All Spirit of the Fair Tournaments benefit nonprofit organizations.
There are many ways to get involved with Spirit of the Fair: Introductions to Motorsports; Learning How To Use Tools in the Garage; Meeting Drivers & Mechanics, Cornhole Tournaments, Classes & Leagues; RC Racing Exhibitions, Tournaments & Leagues, Go-Karts, Volunteering; Fundraising for Nonprofit Organizations; Earning Rewards through the Brand Ambassador Loyalty Program. There's a lot to choose from. We just have to find your space!
Local Partners. Shop Local. If you own a local business, there are multiple options for most budgets to promote, market & advertise to the local community.
---
[lws_social_share]