About
---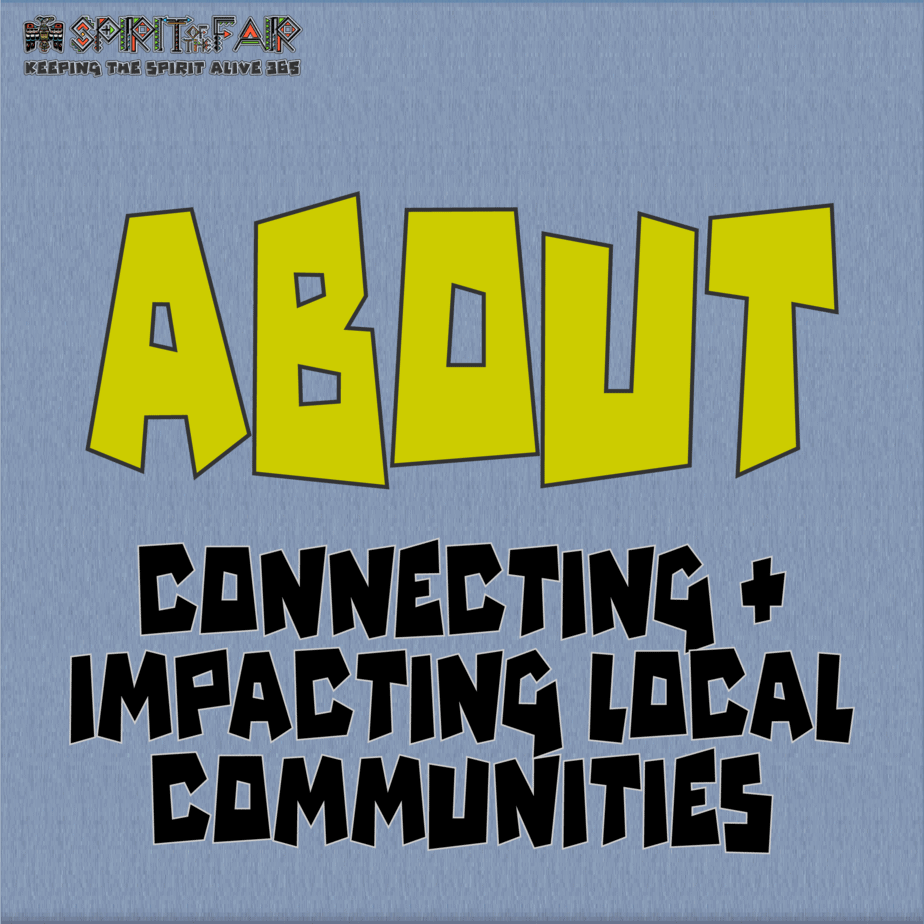 Follow Us
---
Keeping the Fair Magic Alive 365!
Impacting, Connecting and Entertaining the Local Community thru Motorsports, Backyard Games, Fun Hobbies and All Things Fair Related!
---
Who We Are: Community at Our Core
At Spirit of the Fair, we breathe life into the timeless essence of local fairs, transforming it into a year-round phenomenon. We've pioneered 'Community Oriented Entertainment,' a unique blend of joy and social responsibility, designed to connect, entertain, and positively impact local communities.
Traditional fairs, usually occurring once or just a few times a year, leave a void in community engagement for the rest of the year. We see this gap as an opportunity to continually invest in our communities and keep the spirit alive.
With a philosophy centered around 'GIVE FIRST – GIVE BACK – GIVE OFTEN,' Spirit of the Fair forges unprecedented connections within the community. We approach assistance from multiple dimensions; personal, professional, holistic (spelled with intention), and educational.
The vision is simple yet profound: reconnecting communities to their core values. Whether it's lending a helping hand, forging friendships, or building business networks, our aim is to revitalize a culture of empathy, support, and connection. Through a focus on giving, we believe in nurturing an environment where kindness multiplies and comes back manifold.
Join Spirit of the Fair as we embark on this journey of rekindling community bonds, one event at a time.
---
What We Do: Impacting, Connecting & Entertaining Communities with a Purpose
At Spirit of the Fair, we weave together community engagement and entertainment while raising funds for nonprofit organizations. Through regular charity fundraiser events, our mission extends beyond merely supporting nonprofits. We aim to invigorate lives, encouraging people to leave their couches and engage in a world that genuinely matters.
Engaging in Things That Truly Matter
In times shaped by challenges such as COVID and economic upheavals, many have felt the heavy burden of uncertainty and hardship. Whether it's you, a family member, a neighbor, a coworker, a grocery store clerk, or your favorite Starbucks barista, the need for support can be found everywhere.
Realizing that we can't individually reach every person in need, Spirit of the Fair offers a platform to make a substantial difference collectively. With every event, every smile, and every connection, we create what we lovingly refer to as 'Serious Fun.'
'Serious Fun' is our mantra at Spirit of the Fair. We are sincerely committed to impacting the local communities we collaborate with. We take joy in helping people, and we blend this serious endeavor with the pure pleasure of entertainment. Together, we cultivate an atmosphere of compassion and community spirit that resonates beyond our events.
Join us in our mission to uplift and unite communities through fun with purpose. Spirit of the Fair is where meaningful impact meets joyful celebration.
---
Defining 'Community Oriented Entertainment': A Spirit Unique to Southern Oregon
At the heart of 'Community Oriented Entertainment' is a profound understanding of the community where you reside. Recognizing this interconnectedness, it has shaped the foundation of our mission at Spirit of the Fair.
In the complex and challenging world we navigate, survival hinges on our relationships with others. Threats may loom, and our modern life's complexities require interdependence. It becomes clear: surviving without your community is a far-fetched notion.
Unless you aspire to be a lone survivalist, the realization dawns that being part of a community is not just desirable but essential. Embracing a philosophy of 'Give First – Give Back – Give Often' enriches lives. Engaging with your community is transformative, leaving an indelible mark on your life.
Entertainment with a Heart
Having recognized the vital role of the local community, we at Spirit of the Fair ask: why can't community service and fundraising be engaging, satisfying, and rewarding? Well, they can, and we've proved it!
We have creatively fused the excitement of the 'Ultimate Pit Party' with the simple joy of Backyard Games & Fun Hobbies. All of this is tied together with Fundraising for Local Nonprofit Organizations. The result is a harmonious blend of entertainment, camaraderie, and charity that not only serves Southern Oregon but exemplifies a model for community interaction.
Join us at Spirit of the Fair, where community and entertainment meet in a celebration of unity and purpose. Here, we transcend the ordinary and elevate the meaning of community, all while having a fantastic time!
---
Where We Are
Based in Southern Oregon
Before launching in Southern Oregon, we embarked on extensive research, exploring various locations across Oregon, Washington, and California. While our ambition is to reach and positively impact communities throughout the U.S., it was crucial to identify the perfect place to breathe life into our unique concept.
Southern Oregon emerged as our chosen destination, and for good reason. The circumstances aligned perfectly, particularly in the Grants Pass community, which is currently in a growth phase. More importantly, this area is home to a significant number of individuals who require support from various perspectives.
What truly set Southern Oregon apart, however, was the character of its people. We discovered a community filled with generous, caring, loving, and compassionate individuals. We feel incredibly fortunate to have begun our journey in such a deserving community, where the values that drive Spirit of the Fair are not just understood but lived daily.
---
How It All Began
A Vision Comes to Life
The story of Spirit of the Fair started with a unique vision. Its creator, Shane Russell, was invited to San Diego in 2019 to assist with a two-week-long off-road motorsports show at the San Diego County Fair. This was unlike anything he had ever experienced before, and the entire experience was nothing short of amazing. Shane was called upon to perform tasks he had never even considered possible, some of which you can witness in the video below.
One of the remarkable moments involved re-chalking the stadium quickly between various races and acts. Over time, this mundane task became an opportunity for entertainment. Shane was challenged to race the tractor around the stadium in record time. In his first attempt, he zoomed off like Speedy Gonzales, leaving the tractor in his dust. The subsequent races became increasingly competitive and entertaining, with Shane pushing the chalker the last 20 feet to win by a hair, even as the tractor operator found creative ways to challenge him.
Embracing Life's Purpose
Shane's journey to find his path was filled with years of exploration and learning. His passion for helping people always guided him, yet finding the right balance between assisting others and making a living was fraught with challenges. Competition was fierce, rejection was common, and building a robust foundation took years of perseverance.
Before Spirit of the Fair became public, Shane had been tirelessly working on it full time for over two years. He was determined to do everything in his power to ensure its success. His background in business, marketing, sales, and advertising provided him with the tools he needed, but it was his outward focus on others and his belief in living life with purpose that truly made the difference.
He understood that by dedicating himself to the service of others, the universe would take care of him in return. This realization became his guiding principle, and he knew he had found his opportunity. It was a chance he was not going to let slip away. Spirit of the Fair was not just a business for Shane; it was a calling, and he was ready to answer it!
---
How to Join Us
Everyone Has a Role to Play
Become part of something bigger. Engage in the cause, partake in the fun, and embrace the community. Whether you're looking to find motivation to get off the couch, make new connections, grow your business, or simply give back, there's a spot here for everyone!
Our philosophy centers around 'Give First – Give Back – Give Often.' We provide various options to suit your interests and abilities. Just select one from the dropdown menu above, and take the first step. Your community awaits your contribution!
Click Here to Learn More About How to Get Involved
---
More About Our Roots
Going Beyond the Surface
The origin and inspiration behind the name "Spirit of the Fair" goes far beyond mere branding. Shane is a registered member of the Nisqually Tribe in Washington State, and his connection to the tribe has shaped his life in numerous ways. Shane's mother was raised on the reservation, experiencing a childhood marked by poverty and hardship. With her mother's passing at the young age of four and an estranged father, she grew up in trying conditions, without electricity, proper plumbing, or basic amenities.
Over time, things have transformed, and the Tribe has been instrumental in shaping Shane's life. It has opened doors for him, allowing him the chance to create something extraordinary that has the potential to change many lives. The name 'Spirit of the Fair' is more than a theme; it stands as a tribute to the people who matter most to him, reflecting a rich history and paying respect to his roots and values.
Native American Heritage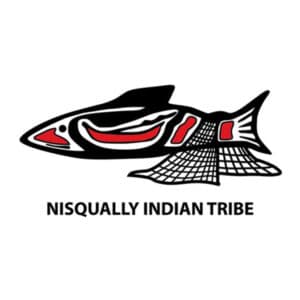 As you can see, the logo of the Nisqually Indian Tribe is that of a fish with a net wrapped around it. It's three colors are red, white and black. The logo is Northwest Native American Culture.