Build Backyard Games for Local Youth Nonprofits & Programs
---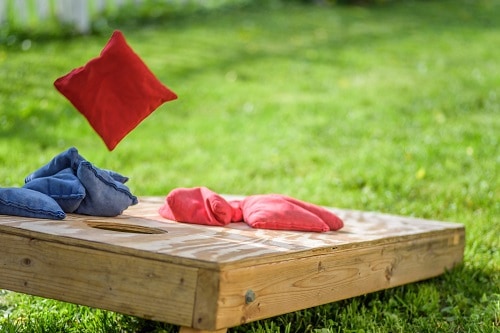 Help Build Fun Backyard Games to Benefit the Youth in the Community
Your Next DIY Project Can Make a Difference
Shop Local – Get Your Stuff at Farmer's Building Supply
People love to build stuff. There's just something about the experience that makes building stuff a lot of fun. Above and beyond the smell of fresh wood, above and beyond the beautiful forest it came from, the fact that wood can be transformed into countless creations makes it appealing to just about any DIY (Do-It-Yourself) individual.
Not only that, but there are countless DIY projects just waiting for you at Farmer's Building Supply in Southern Oregon. Using wood is not a requirement. You can also make things out of PVC piping or a multitude of other miscellaneous objects in the store. The sky's the limit!
Raise Money for Charity
After speaking to countless people who love Backyard Games in the Southern Oregon area, a new plan has been formed to help raise money for local youth nonprofit organizations and youth programs connected to those organizations.
What We Are Looking For
We are looking for individuals who love building stuff, or want to start, for a hobby and/or as an actual business. If you are interested in building and donating or selling your Backyard Games through our website, we would like to hear from you.
Online Storefront
We have spent countless hours creating an online storefront to help small business owners sell their products. Those products will be posted on the Spirit of the Fair website and sent out to Facebook Marketplace and Google Listings.
You have the choice of managing this yourself, or we can help you manage it. If you're donating any games, we will take care of everything for those games. If you're conducting business, we have options available for you too. Either way, it's our job to make sure the products sell for you and for the rest of the community.
Don't Do It Alone
There's no reason any of us should try to be successful by ourselves. If you only want to build a Backyard Game once a month, once a year, or hundreds per year, it doesn't matter to us. Our main goal is to impact the local community in as many ways as possible, and you are part of that community so we will help you too.
How We Will Help You
We are fundraising for local youth nonprofits through this program, but we are also helping you. We will market, promote, advertise and ultimately sell, for you. All you have to do is build some fun Backyard Games, tell us what you want to do, we help you with everything else along the way.
Spirit of the Fair Events
Depending on whether you're donating or selling your Backyard Games, we may use them in the Tournaments and Leagues, or we may display them for people to purchase. Either way, your products will be displayed for everyone to see. We will also be sure to point everyone to your online storefront and social media pages to purchase more from you.
Backyard Games
Below is a list of fun Backyard Game ideas. You're not required to stick to this list, but anything else will have to be approved. Choose whatever you prefer and put your own personality into each build.
Always keep your designs family friendly. As long as your builds are good quality, we will help to sell them at our events and online to raise money for charity and/or your business or organization. If you ever have a question, please consult us before wasting your valuable time.
---
---
"WHY DO IT BETTER, WHEN YOU CAN DO IT BEST WITH FARMER'S?"
Grants Pass & Cave Junction, OR
---
COMPANIES WE WORK WITH & TRUST