Cornhole Community
---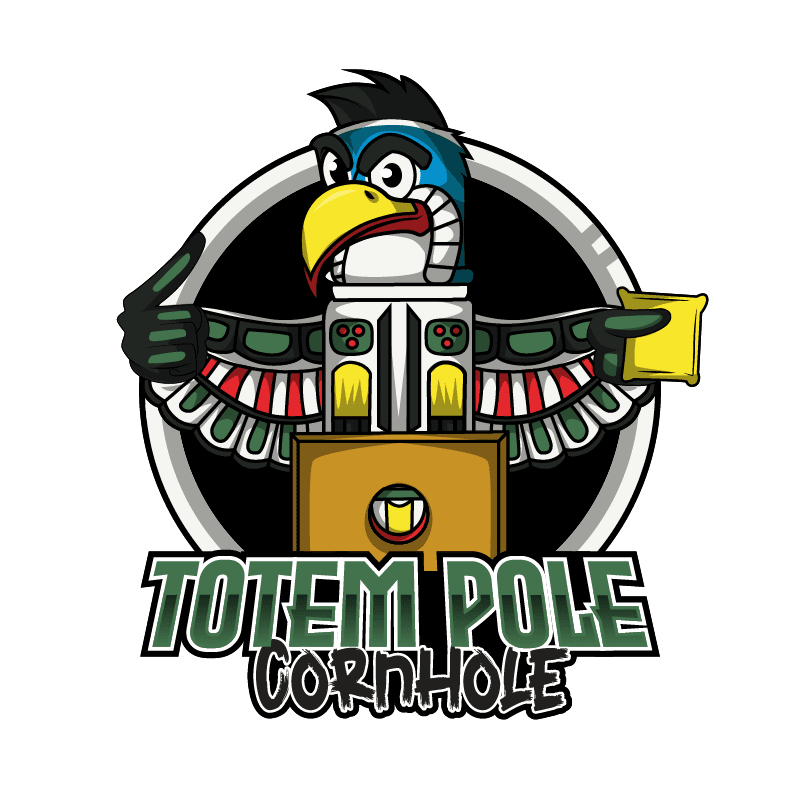 Follow Us
---
[Dropdown]
TOTEM POLE CORNHOLE
By Spirit of the Fair
Fundraising Cornhole Tournaments
Currently Playing in & Serving Southern Oregon
Below you will find all kinds of Great Resources and Images of the Spirit of the Fair Cornhole Community in Southern Oregon. We are working hard to bring you Year-Round Leagues and Tournaments, which has officially begun! Make sure to check out the sections below and don't forget to join the Cornhole Community to Stay Up-to-Date with all Spirit of the Fair News and Information. We don't want you to miss out!
GALLERY
Photos by Stone Parrish Photography
Not in Southern Oregon? Join the Spirit of the Fair Cornhole Community and Help Us Get Started in Your Area
---
---
FIRST THINGS FIRST
Play Cornhole + Meet New People = Have Fun!
There's no better reason to get out of the house than to go have fun with friends. Cornhole is one of those sports that have gained in popularity over recent years for multiple reasons — it's easy to learn, it's easy to play, it's inexpensive, it's portable and of course, it's a lot of fun to play! It can be played just about anywhere.
---
---
Weekly Cornhole Tournaments/League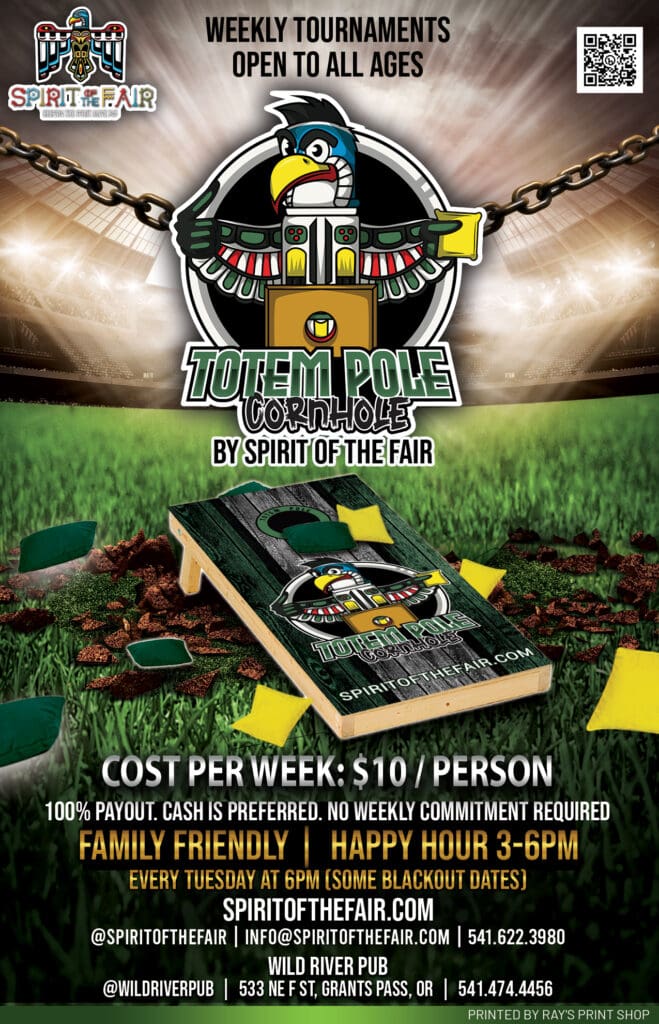 A Totem Pole Cornhole League is now at Wild River Pub in Grants Pass every Tuesday night at 6pm (Some blackout dates). Click the button below to view upcoming dates.
The cost is $10 / Person each week. Random Teams/Switcholio. 100% Payout. Cash is Preferred. Open to all ages and skill levels.
Click here to read full tournament rules.
---
---
Large Tournaments
Tournaments are held at Spirit of the Fair Charity Fundraiser events. Click the button below to view and register for upcoming tournaments. All tournaments are Cash Top 3 Teams, Multiple Combinations of Players on Teams, Round Robin, Bracket, Double Elimination and Open to All Ages (under 18, accompanied by an adult).
Click here to read full tournament rules.
---
We are currently working on more Spirit of the Fair Charity Fundraisers in Southern Oregon.
Follow us on Facebook or Instagram for updates: @spiritofthefair
---
---
Nonprofit Fundraising
All Spirit of the Fair Cornhole Tournaments benefit local nonprofit organizations. Our primary focus is on youth and Veteran nonprofits, but we help many types.
We also have multiple other Nonprofit Partner 501(c)(3) Organizations.
---
---
Get Involved
Get information about Spirit of the Fair Events, Fundraisers and the Cornhole Community — Upcoming Weekly and Large Tournaments.
Join the Spirit of the Fair Cornhole Community. We'll keep you Up-to-Date with News and Registration Information for the next event and tournament starting near you.
---
---
CONRHOLE TOURNAMENT INFO & RULES
Tournament Times: Start times vary; usually mornings around 10 – Noon. (Arrive at least 30 minutes early for registration). Tournaments usually take about 4 hours with short breaks in between games.
Locations: Vary. Currently in Southern Oregon.
Tournament Structure: Single's, Double's, Bracket, Double Elimination
Tournament Entry Fees: Varies / Person
Prizes: Cash – Top three teams split 50% of total entry fees (1st Place: 25%, 2nd Place: 15%, 3rd Place 10%)
Rules: Official American Cornhole Association Rules
App: Scoreholio | Facebook | Download: [Apple] [Google]
Number of Teams: 32 Teams Maximum (64 people max) – Due to bracket tournament structure, the number of teams for a double elimination tournament is limited to factors of 32. If there are enough extra sets and enough extra people, we will create an additional bracket or a single elimination tournament.
Team Structure: 2 People / Team – If you are by yourself, we will assign you to a team. If you decide to add a teammate later, add a note with the team and partner's names during checkout of the second teammate.
Team Names: Submit your team name at the time of registration (when applicable). If you forget, you can email it to us here.
Age Requirement: Minimum 18 years (Unless accompanied by an adult. Adults must register.)
Registration: Online and in-person prior to the tournament (cash only – day of tournament)
Nonprofits: Nonprofit 501(c)(3) Organizations
Parking: Space is always limited. When necessary, there will be a drop-off spot and we will work to provide a shuttle service to make it easier to get back and forth.
What to Bring: Chairs, Ice Chests, Snacks, Umbrellas, Extra Cornhole Sets.
Alcohol: We will always do our best to accommodate responsible drinking for ages 21 and over. Check event details.
What Not to Bring: Pop-up Tents (Unless Authorized), Loud Music, Smoke
Booking / Cancellation / Refunds: No later than 10pm the night prior to the start of the event.
---
Follow Us