Uniting Passionate Fans: The 2nd Annual Josephine County Fair Cars and Cornhole Event
---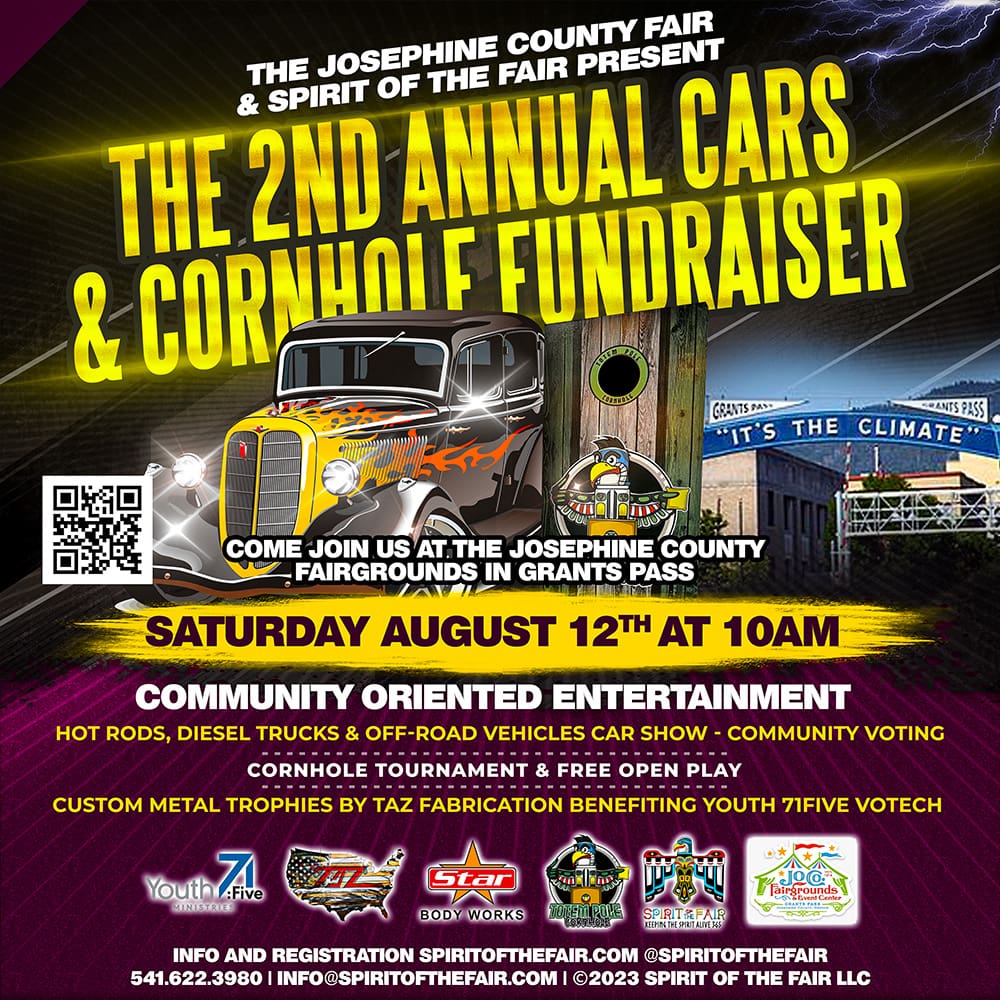 🚗🌽Attention all Cornhole & Hot Rod enthusiasts! We are beyond thrilled to share some electrifying news about our upcoming fundraising tournaments. Whether you're a Cornhole aficionado or a Hot Rod lover, there's something amazing in store for you at the Josephine County Fair Cars and Cornhole event. This year, we have a lot more to offer, and it's all happening on Saturday, August 12th. Here's what you can expect:
A Cornhole Tournament like no other 🎯
Polish your skills and rally your team for an exciting Cornhole doubles tournament. With two divisions, Lowers and Uppers, we've made sure that everyone gets a chance to compete, no matter your skill level. The prizes? 100% of the total tournament entry fees (up to $2,500) for each division! Plus, marvelous trophies that will be a testament to your Cornhole talent.
A Car Show that will Rev Your Engines 🚗
Classic cars, off-road vehicles, diesel trucks, hot rods – you name it! Appreciate the craftsmanship and mingle with fellow automotive enthusiasts at our car show. And guess what? Your beautiful machine could win you a payout of up to $2,500, with a 100% payout guarantee. Whether you want to display your car or simply admire others, there's a spot for you.
Fundraising and More
We're spicing up the atmosphere with new fundraising methods, including an enthralling raffle to win complimentary nights at Grants Pass' premier hotels – Best Western and Holiday Inn Express. Your participation not only brings you joy and satisfaction but also supports Youth 71Five Ministries.
A Fantastic Sponsor and Exclusive Entertainment
We cannot continue without expressing our heartfelt gratitude to our latest sponsor: Gladiators of Steel, who is playing exclusively on wheelhousetv.com. Their support has greatly contributed to making this event bigger and better. Make sure to catch their exciting performance and enjoy the entertainment they bring to our community.
A Special Thanks to Our Valued Sponsors
We would be remiss not to extend a heartfelt thank you to our other incredible sponsors for the 2nd Annual Cars and Cornhole at the Josephine County Fair. TAZ Fabrication, Star Body Works, Ray's Print Shop, Best Western Grants Pass, Holiday Inn Express Grants Pass and Bullydog Soaps n Suds – your generous support has been instrumental in bringing this event to life. Your contributions not only enhance the experience for all our participants but also significantly impact our community efforts. Together with Gladiators of Steel, you have helped us create a platform for enthusiasts to come together, celebrate their passions, and contribute to a worthy cause. Thank you for being a part of this wonderful journey! 🤝🌟
Participate with Ease
Registering for Cornhole is a breeze on SCOREHOLIO, and for the Hot Rod Car Show, simply click [here]. And hey, if you don't have a partner for the cornhole tournament, we've got you covered.
Save the Date
Saturday, August 12th, mark it, and make it a day to remember. Starting with Hot Rods at 10am and Cornhole at 12pm, gear up for a spectacular day of adrenaline, competition, and camaraderie. And Hot Rod owners, you can roll in as early as 8am.
We can't wait to see you at the 2nd Annual Josephine County Fair Cars and Cornhole event. Together, let's create unforgettable moments, unite in friendly competition, and support a worthy cause. Share this tremendous news within the Cornhole & Hot Rod communities and stay tuned for more details.
Get ready to seize the day, score big, and be a part of something truly special! 🚗🌽🏆🎯
—
Location: Josephine County Fairgrounds
Date: Saturday, August 12th
Time: Hot Rods at 10am; Cornhole at 12pm
[Register for Cornhole on SCOREHOLIO]
[Register for the Hot Rod Car Show]