Weekly Cornhole League Old Barn Tavern Grants Pass
---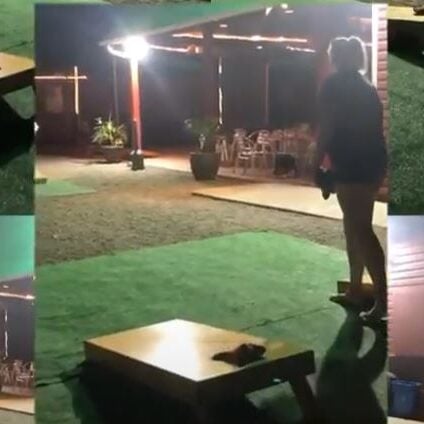 Come Join Us! Weekly Totem Pole Cornhole League in Grants Pass, OR at the Old Barn Tavern on Thurs Nights at 6pm. 
$5 / Person | Random Teams | Winning Team Takes All + $30 Towards Bar Tab.
KARAOKE EVERY THURS NIGHT STARTING AT 8PM.
---
Come out and join the Cornhole Community in Southern Oregon. We just started a new Cornhole league at the Old Barn Tavern in Grants Pass. The Old Barn Tavern is now under new ownership and they are all very excited to connect with the community in new ways!
If you haven't been there, it's a great place to hang out. The tavern has an awesome rustic bar inside an old red barn with two pool tables. Out back they have a covered area with lots of seating, a stage for live events and another bar for serving during the Summer and private events.
Of course, there is also plenty of room to play Cornhole. Although it will take a little maneuvering of tables, the back patio has space for up to 6 cornhole sets (two covered, and four uncovered). The best part is they also have heaters outside and enough cover to allow for year-round play. They also plan to add additional cover so it will be even better!
For those who enjoy sharing their voice with the world, they have Live Karaoke with Legacy Entertainment every Thurs evening beginning at 8pm.
If you haven't been to the Old Barn Tavern, stop in and check it out! The staff is amazing and you're sure to have a good time! We hope to see you there!
OLD BARN TAVERN
2039 Redwood Ave, Grants Pass, OR
541.479.0222
---
---
---
The Old Barn is a local favorite!
Friendly Bartenders, Pool Tables, Karaoke & Weekly Cornhole League – Thurs Nights
Grants Pass, OR
Southern Oregon
Facebook: @Oldbarntavern
---
COMPANIES WE WORK WITH & TRUST