Weekly Cornhole Tournaments Grants Pass Announcements
---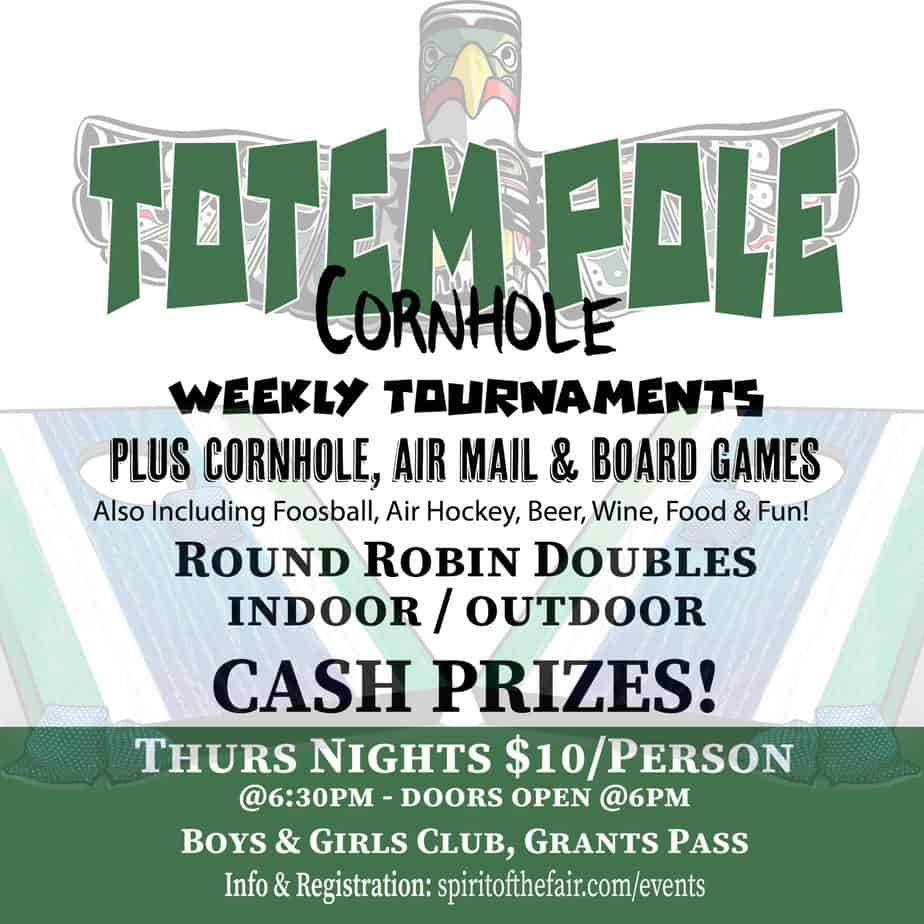 It's Time for Some Cornhole in Southern Oregon!
---
Totem Pole Cornhole
ANNOUNCEMENTS: Week 1
IF YOU ARE, OR WILL BE, PARTICIPATING, PLEASE READ! VERY IMPORTANT INFO.
Hey Totem Pole Cornholers! Week 1 was awesome! We're very happy everyone was outside, hanging out with people and making new friends.
We want everyone to be happy with the league so we will keep making small adjustments until we get everything dialed in. We want to encourage all of you to invite more people each week. The more teams playing, the higher the payouts and the more fun!
The only few adjustments that we are going to make is a weekly Round Robin Tournament. We don't want long leagues where no one can get in until a new one begins.
Since it's almost impossible to track the top three players in this format, we will award the top 3 teams so they receive the most prize money. We will also be paying out weekly so stay tuned for all the week 1 standings. We're confident this will make it much better for everyone, but don't hesitate to reach out if you have any concerns.
More Important Announcements
WELCOME TO THE FIRST TOTEM POLE CORNHOLE LEAGUE BY SPIRIT OF THE FAIR. THANK YOU ALL VERY MUCH FOR BEING HERE! THIS IS GOING TO BE A BLAST FOR ALL OF US!
We are going to hold weekly tournaments (with some blackout dates) so you don't have to be in a league to come and enjoy the fun. Feel free to invite your friends and family. They can participate in other activities, get food and drinks, but they don't have to pay to come hang out. It's our goal to get people out of the house and to include as many people as possible in all our activities.
We will hold the Cornhole Tournaments primarily outdoors on the grass and indoors in the small gym when the weather is not nice out; in the game room there are other backyard games, board games, foosball and whatever else you want to do to have fun!
There will always be a food truck: Big O Spuds – Awesome Mexican American food.
The Thirsty Wheel is outside for Beer, Wine and other Non-Alcoholic Beverages.
We want to thank Big O Spuds for sponsoring our league, Farmer's Building Supply for the Cornhole Sets (which we will be painting, wrapping and torching to be raffled at our tournament fundraisers). We want to thank the Boys and Girls Club for allowing us to use their facility. We also want to Thank Thirsty Wheel and Rogue Sushi and all of you for getting involved and making this happen. This is all about the community and it can't happen without all of you!
If you don't already know, every Spirit of the Fair event raises money for charity in some fashion. Through this league, we will be raising money for Ride for 22 – Veteran Suicide Prevention. This will be done by playing side games and participating in weekly drawings. A portion of all the proceeds will be donated to them. This league is also helping to raise money for the Boys and Girls Club because we are renting their space.
We WILL be using Scoreholio. Even though it's a little challenging at times, it will be worth it for all of us. The app manages the entire league and tracks all your stats so that you can take them with you wherever you play. This app is already used by most of the Cornhole Community in Southern Oregon and beyond. We will all help each other make sure it's all updated and accurate.
CURRENT DATES: 4/7, 4/14, 4/21, 5/5, 5/12, 5/19, 5/26
SPECIAL ANNOUNCEMENT: 5/26 DAY-TIME
FREE PLAY DURING THE FIRST DAY OF BOATNIK
THEME NIGHT: Cinco De Mayo
TOURNAMENT STRUCTURE: Round Robin (Random Assignments Each Game)
WEEKLY PAYOUTS: Cash Prizes (Top 3 Teams)

For each week $5 of every weekly player fee will go towards payouts.
Top three teams split 50% of total (1st Place: 50%, 2nd Place: 30%, 3rd Place 20%)

SIDE GAMES: Airmail Pot 50/50 (Raffle Winner Tosses for Cash)

Fundraising to benefit Ride for 22
THIS YEAR IS GOING TO BE AWESOME!
We are already in talks with all the major events in Grants Pass and adding Medford into the mix too.
2022 EVENTS SO FAR
Cornhole Tournament – Show and Shine – Rogue Valley SXS – Medford – May 14th
Cornhole Tournament – Farmer's Building & Feed Supply – Grants Pass – May 21st
Supporting the Chamber of Commerce Ambassadors
Cornhole Tournament – Western Music Festival – Medford – Early June
Frog O Faire – Free Cornhole – June 11th
Supporting Project Youth+
WE NEED VOLUNTEERS! WE ARE BUILDING A FROG-O-FAIRE FLOAT FOR THE BOATNIK PARADE
Josephine County Fair – 4 Car Shows, 4 Different Tournaments, 4 Days, 8 Benefiting Nonprofits – August 10-14
Boatnik – Free Cornhole Play & 2 Tournaments. Plus, RC Car Racing & Crawling – May 26-30
MORE EVENTS
Paint and Sip Wine Night – Vista 222 – April 29th
The Top 100 Nonprofit Awards Gala – Vista 222 – September 29th

Nominate Your Favorite Nonprofits spiritofthefair.com or Facebook
Benefiting Canine Angels Service Teams
If you haven't already, follow @spiritofthefair and Join the Facebook Group @totempolecornhole for all of this and more info about getting involved in the community. There's so much more to come so stay tuned! Make sure to pass on the info! See you all at Week 2!
Weekly Tournament Details
Boys & Girls Club in Grants Pass
Sponsored by
Big O Spuds & Farmer's Building & Feed Supply
Featuring
Big O Spuds
Mexican & American Food
Also Featuring
The Thirsty Wheel
Beer & Wine Trailer
Fundraising Benefiting Ride for 22 – Veteran Suicide Prevention Nonprofit
---
CASH PRIZES!
Top 3 Teams
Air Mail Pot 50/50
---
$10 / Person / Week
$60 League Pass
(Pay for 6, Get 1 Week Free. Save $10.)
---
Weekly Round Robin Doubles
Thurs Nights @6:30pm
Doors Open @6pm
Adults. 21+. Any Skill Level. Extra Bags Are Available.
40 Teams Max
---
INDOORS & OUTDOORS
Rain or Shine
---
Fun Activities
Cornhole, Air Mail, Board Games, Foosball, Air Hockey, Basketball, Beer, Wine, Mexican & American Food & Fun!
Free Entry to the Public (Limited Time). Adults. 21+ Only.
---
PLUS, BIG O SPUDS FOOD TRUCK & THE THIRSTY WHEEL BEER & WINE TRAILER!
No outside food or drinks.
PLEASE DRINK RESPONSIBLY.
---
Location
---
REGISTER BELOW TO RESERVE YOUR SPOT
Purchase a League Pass. Get a FREE Week of Play!
ONLY $60!
Regular Price $70. Save $10.
Questions or Comments? Email Us