Cornhole League Starting April 7th in Southern Oregon
---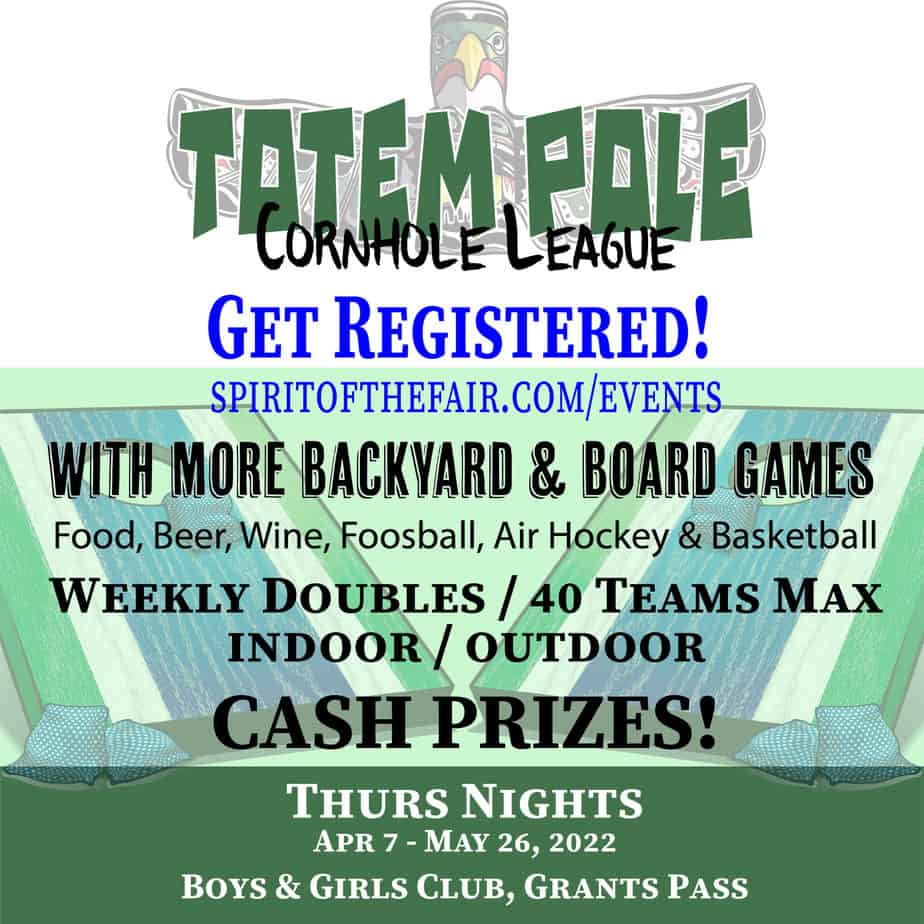 Thursday Evenings At the Boys and Girls Club Facility in Grants Pass, OR
Presented by Spirit of the Fair
Brought to you by Big O Spuds and Farmer's & Illinois Valley Building, Feed & Garden Supply + Rogue Truss
We are excited to start the very first Totem Pole Cornhole League in Southern Oregon. It was a challenge to find the right location so that leagues could keep going year-round, but we are very pleased to say that the Boys and Girls Clubs of the Rogue Valley is the best possible place. Even though we are renting the facility, all the revenue they receive as a result of the Cornhole Leagues is helping their program so it's a win-win situation for everyone.
They have an amazing facility that the kids use during the day for different educational and after school programs. They have been doing private events there for some time so it's not unusual for them to rent out their facility. We are very lucky to have everything we need all in one place. We are able to have a league for those who want to play in leagues on a regular basis. We are also able to host the casual visitor who just wants to visit occasionally. There will be fun activities for just about everyone; not to mention, food and beverages!
For those wondering, this first league is going to be 21 and over, but we will open it up to all ages once we get a few things worked out, primarily adult beverages. We want to make sure that we are following the State alcohol serving laws. In fact, that is the number one reason we are also doing 7 weeks at a time. Once we are able to have something a little more permanent, we will be adding more weeks.
Additionally, all Spirit of the Fair tournaments and leagues have a fundraising element to them. Currently, Ride for 22 is the beneficiary of Cornhole related events. They are a Veteran related nonprofit organization that helps raise awareness and prevent Veteran suicide. They have been a very big supporter of us while we were just launching so we have committed the first year to help them as much as possible in return.
And finally, we have to express our gratitude for those who have helped us to bring this to the community. Cornhole is a very popular and fun game to play. It brings people in the community together and opens so many doors to impact people's lives. We are very grateful for Big O Spuds and Farmer's Building, Garden and Feed Supply for not only sponsoring us, but believing in us. We are also excited to include The Thirsty Wheel Beer and Wine Trailer as well as Rogue Sushi (substituting for Big O Spuds the first week).
There are still spots available for the league. You do not have to pay yet, but feel free to register to reserve your team's spot.
Indoor (When it's Cold Out) / Outdoor (When it's Nice Out)
Doubles, Any Skill Level, 7 Weeks
$10 / Week or $60 League Pass
21+ Only. Play in the League or Just Come Have Fun!
More Backyard Games, Board Games, Foosball, Air Hockey and Small Court Basketball (When Cornhole is Outside)
More Info & Registration: https://spiritofthefair.com/events
---
---
Food Truck – American & Mexican Food
Featuring Baked Potatoes, Elotes, Tacos, Homemade Mac and Cheese, Burgers, Tri-Tip and Pulled Pork. Available for Venues, Events, Catering & Parties.
Merlin, OR
Southern Oregon
Facebook: @bigospuds
---
Farmer's & Illinois Valley Building, Feed & Garden Supply + Rogue Truss
"WHY DO IT BETTER, WHEN YOU CAN DO IT BEST WITH FARMER'S?"
Grants Pass & Cave Junction, OR
---
COMPANIES WE WORK WITH & TRUST