Top 100 Nonprofit Awards Gala 2022
---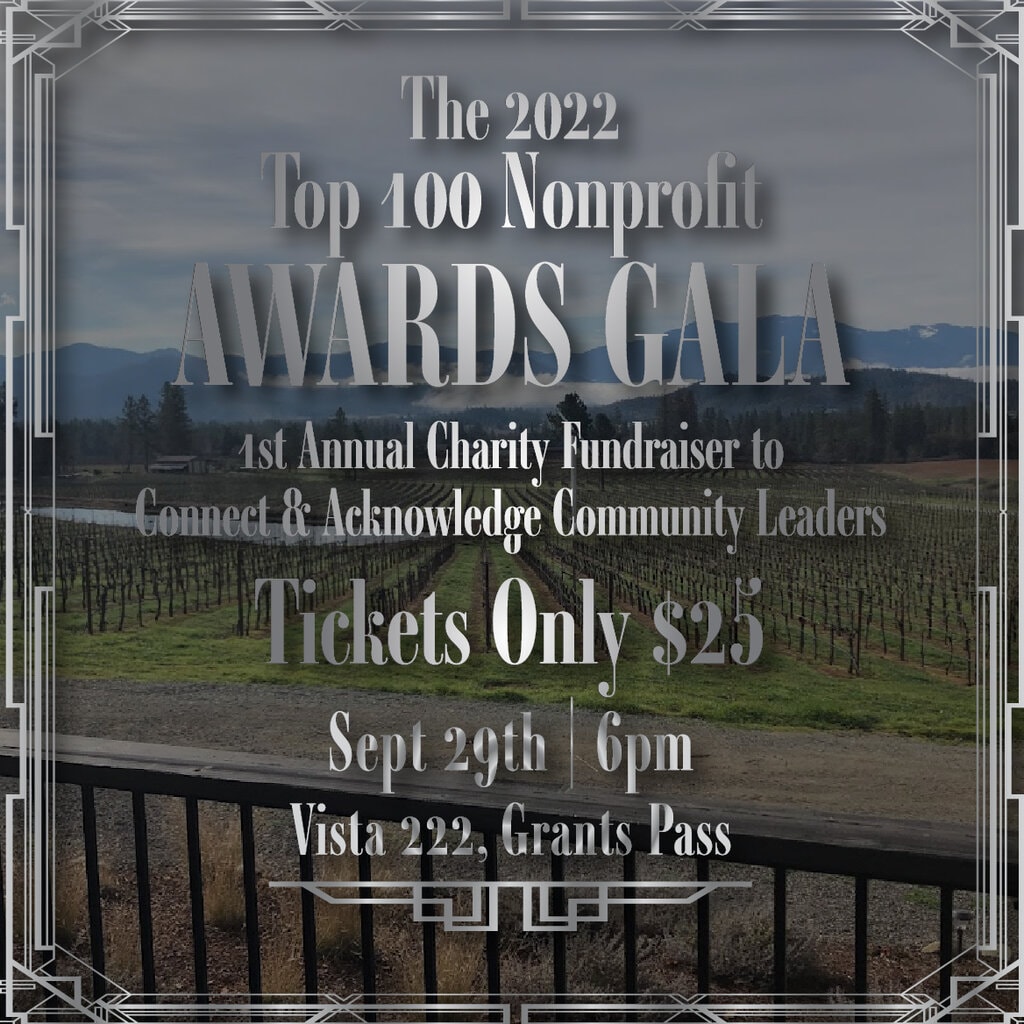 Thursday, September 29th | Vista 222 Private Wine Country Venue, Grants Pass
Charity Fundraiser, Awards, Dinner, Music, Drinks, Beautiful Views & People.
Plus, a Night to Remember!
Bridging the Gap for a Vibrant Community
This event is for Local Nonprofit Organizations and Business Leaders wanting to connect with other Community Oriented Individuals.
Benefiting Canine Angels Service Teams & The Nonprofit Award Winners
What is the Top 100 Nonprofit Awards Gala Fundraiser?
The Awards
Custom Metal Fabrication Trophies by TAZ Fabrication
This year is the First Annual Top 100 Nonprofit Awards Gala in Southern Oregon. The Gala is going to be an annual event to show appreciation for the top 100 nonprofit organizations in the region and to recognize those that have made the most impact to the people in the community. Anyone can attend with the purchase of a ticket and/or sponsorship.
A PRIVATE WINE COUNTRY VENUE
Additionally, Vista 222 (formerly Serra Vineyards) is a beautiful venue for just about any special occasion. They are no longer a winery, although they still grow and sell grapes. They are now a private wine country venue. The view is out of this world, the staff is all amazing, and any night there will be one to remember! Vista 222 hosts weddings, corporate events, birthday parties and even have multiple wine clubs. Even those who don't make it to the gala should check out their many available options.
Spirit of the Fair Fundraiser Events
ALL SPIRIT OF THE FAIR EVENTS ARE FUNDRAISERS
The Gala is also a fundraiser to raise funds and awareness for Canine Angels Service Teams — a local nonprofit which provides service dogs to youth with disabilities. They will be featured and have their best dogs on full display at the gala.
THE COMMUNITY DECIDES
Since it is very difficult to determine those that are most deserving, it will be up to the community to decide who gets to go and who wins the awards. Two people from each chosen nonprofit organization will be invited to have an amazing dinner with community leaders and other members of the nonprofit community.
Now, it is very important that you nominate your favorite nonprofits. Only the top 100 will be invited. Since this event is invite only, the only other way to attend is as a sponsor. The idea is to have sponsors help raise money for Canine Angels and all the Award winners, as well as to provide a free dinner for the well deserving and hardworking top 100 nonprofit representatives. The more money we are able to raise in sponsorships, the less they will have to pay to attend the wonderful gala in the heart of the Southern Oregon Wine Country.
INTERSTED IN ATTENDING THE GALA AS A GUEST OR SPONSOR?
Email Us a Request for the Sponsor Deck to attend the First Annual Top 100 Nonprofit Awards Gala. Space is limited so don't wait until the last minute; once all the spots are full, that is it. We have sponsorship options for all different levels and all sponsorships are a tax deductible donation to Canine Angels Service Teams.
---
---
A private, wine country hospitality venue and winery in the heart of the Applegate Valley.
vista222.com
Facebook: @vista222
---
---
---
---
A DJ Service in the Rogue Valley
Armed with 7 DJs, they have an option for any event that could use a DJ. Weddings, Fundraisers, Concerts and More! Their company also features officiants and emcees. They also travel, just ask.
Southern Oregon
Facebook: @roguevalleydjs
Thank you to our Sponsors
---
---
---
---
---
---
---
---
LegalShield / IDShield
Smart, Simple Coverage Starts Here
Protection for your family, your business & your personal identity
Grants Pass, OR
---
---
---
COMPANIES WE WORK WITH & TRUST